"I have learned so much in such a short space of time here. In fact, I have gotten back more than I think I have given! (WWM Volunteer)"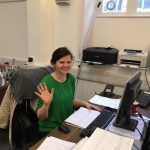 Be part of a movement of people who want the world to be a better place for all!! Join our vibrant and energetic network of campaigners and fundraisers who help raise money to save lives and campaign to speak out against injustice.

You'll be part of a team of letter writers, concert organisers, human rights marchers, fun runners, petition signers and fundraisers. Contact us today.