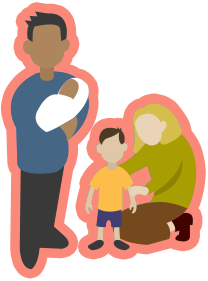 O – 5 years
"Fathers are an important resource in early year's child development, which is conducive to bringing about social mobility, but are underused and often side lined when family services are developed. This issue means that parenting support is often designed with mothers in mind, and parental engagement conducted in environments preferable to women".
Parliamentary Inquiry into Parenting and Social Mobility (2015).
Younger marginalised men who become fathers are not only perhaps the most at risk, but are also the least likely to get any support (Ferguson & Hogan, 2004). Further investigation finds that the fact that fatherhood as a determining factor has been totally overlooked by almost all support services. Some are known to the criminal justice system or have been looked after by a Local Authority/just left care. Significant numbers are from BAME groups and 96% are from less affluent circumstances by national comparison. Statistics justify these findings on a wider scale, among 15-17 year old offenders 12% have children of their own (Prisons Inspectorate estimate); and among those aged 22 and under, nearly half are (or are about to become) fathers – as well as having literacy/numeracy levels below age 11. Over half have been in care; many have experienced violence or sexual abuse at home; and few have had models of good fathering. More dedicated and integrated services for fathers could also fill a need for social support and also help fathers get a clearer sense of their roles in modern families.
Project: