What is the challenge Uncut looks to solve?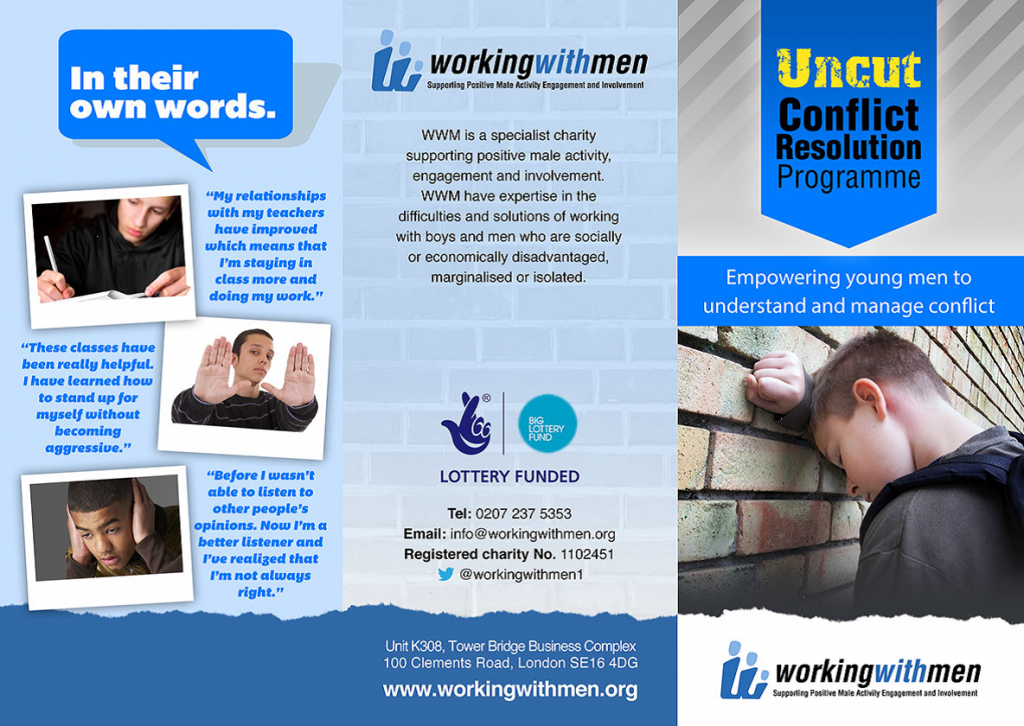 According to data secured from the Mayor's Office for Policing and Crime (MOPAC), in the year to May 2015, there was a rise in the number of victims of knife crime aged 24 and under to 1686 from 1372 in the preceding 12 months. Underpinning this figure, it is known that 1 in 10 children and young people under the age of 16 had a diagnosable mental disorder, as stated by The British Child and Adolescent Mental Health Surveys conducted in 1999 and 2004.
From the Department for Education's Mental Health and Behaviour in Schools paper in March 2015:
Schools have a role to play in supporting pupils to be resilient and mentally healthy
Where severe problems occur schools should expect the child to get support elsewhere as well
There are resources available to help school staff support good mental health and emotional wellbeing
Schools should ensure that pupils and their families participate as fully as possible in decisions
What are the aims of the programme?
Uncut works with boys aged 11 to 14 to develop their skills in managing conflict. The societal aim is to reduce knife crime in London. This is achieved through working in partnership with primary and secondary schools to deliver and embed practice that is evidence based.
What is the content of the programme?
Through group and one-to-one work, participants are challenged constructively to explore attitudes and beliefs about masculinity, enable boys to develop strategies to regulate and manage their emotions and general conduct, provide young people with practical tools and an awareness of alternative problem solving approaches, and to explore the physiological and psychological impact of puberty on adolescent boys. The programme is delivered in 6 week blocks, in-line with half-term education delivery.
What is the evidence base for the work?
In 2011, commissioned an external evaluation by Dr Victoria Bourne of Holloway University. Dr Bourne ran a quasi-experimental research study across 54 boys, 42 in the intervention group and 12 in the control group. The findings were the intervention led to a significant improvement in conflict resolution skills. This was evident in both the self-reporting and teacher observation measures.
Uncut was also the proud recipient of funding from the Big Lottery's, Realising Ambition portfolio in 2012. Three years later, the Social Research Unit of the University of Dartington, in analysing the Strength and Difficulties Questionnaires delivered before and after the programme, found that 48% of participants improved their commitment to school with 31% remaining stable. Furthermore, 57% improved their relationships with peers (36% remained stable) and 46% reduced their aggression and misbehaviour at school with 28% remaining stable.
Where has Uncut been delivered and what were the impacts?
13 schools have benefitted from the above findings across Hammersmith and Fulham and Kensington and Chelsea. 700 boys aged 10 to 14 have participated in the programme.
3 secondary schools and 5 primaries have benefitted. In the secondary schools, across Years 7 to 9:
200 boys completed the 6 session programme
60 boys received six, one-to-one mentoring support sessions.
In the primary schools, across Years 5 and 6:
150 boys completed the six session programme,
20 boys in the same years received 6 one-to-one mentoring sessions,
transition assemblies were delivered to all of year 6 each term,
10 boys received a maximum of 2 ad-hoc one-to-one support sessions per week on school site, such as in the playground, or agreed designated time slots,
15 parents received ad-hoc support and one parenting group was delivered per term.
What are the artefacts of the programme?
Following a process of assessment, planning, delivery, evaluation, review, and further delivery, Uncut has been produced as a manual. The contents of the manual is aimed at experienced practitioners in education and youth settings. It supports those practitioners through guidance and materials to be able to deliver the six week programme, delivering the sessions mentioned above.