10 -15 Years
"Young men are much less likely to enter higher education, are more likely to drop out and are less likely to secure a top degree than women" .(Higher Education Policy Institute 2016)
80% of permanent exclusions were boys, in 2013/14 (Source: DfE)
74% of fixed period exclusions were boys, in 2013/14 (Source: DfE)
What we do about it:
The third life cycle point is supporting the boys at risk of exclusion from school, exhibiting challenging behaviour, academic underachievement, limited adult support or engagement, experience with violence and abuse, and restricted availability to mental health services. It is a continuation of the primary boys development, run on the same lines, 5 group sessions, clear selection criteria and one to one work where deemed necessary.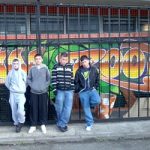 An additional risk factor at this point of boy's lives is entering unhealthy relationships with girls or not understanding what a healthy relationship is. We run a Healthy Relationship programme of 5 sessions in partnership with secondary schools, supporting boys understand and challenge their own perceptions in a safe space. This project has run in partnership with a girls and mixed gender organisation, by having single gender girls groups running alongside and then bringing them together in for 5 mixed gender sessions.
Projects: