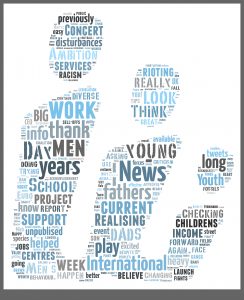 Does WWM only work with boys and men?
In some cases we work directly with women/girls, particularly through our youth services in schools and our Boys Development programme (for mothers of boys) and more recently have begun to work with women's groups to address some of the more universally challenging areas of work.
Why do you focus on boys/men's needs?
You would have to have been living in a vacuum for the last twenty years to have failed to notice the major changes in the attitudes and perceptions towards issues of men and masculinity not just by men but women too. Some of this has been shaped by socioeconomic factors, changes in technology, and political ideology, and many would agree that the role of men in society is evolving and being redefined to a point where many young men are unsure of their own identity or expectations. At WWM we have witnessed first hand what happens to boys and young men when they fall between the gaps caused by an ever shifting landscape, and this is reinforced by some alarming facts. Historically, women have been under-represented in Higher Education. By 1992 the Initial Participation Rate figures for 17-30 year olds showed a 7.2% participation gap, in favour of women – a gap which appears to continue to widen. This gender gap does not suddenly appear at the point of entry to Higher Education – it can be observed early on in the educational system. In 2007, 65% of girls achieved 5 or more A*-C GCSEs or equivalent, compared to 55.8% of boys. Girls are also more likely to stay on in full-time education at age 16 (82% of girls and 72% of boys). They are more likely to be entered for A levels, more likely to pass them, and also more likely to do better (achieve an A grade) than boys (BIS-Broecke and Hamed 2008).
This is more marked for young men living in the most disadvantaged areas and nearly one fifth of 18-year-old boys are classed as not in employment, education or training – the highest proportion for at least 25 years with more than 80% of all inner city school exclusions being boys (Dept Education 2009). Young men aged between 16-24 years are also most at risk of being a victim of violent crime. In 2008/9, 13.2% of young men in this age group experienced a violent crime compared to 5.5% of women in the same age group (Dept Education 2009). There are many other worrying statistics, such as the numbers of men that commit suicide each year, high reoffending rates and drug use of men in prisons, and the health/homelessness statistics for men which remain worryingly high. This is not at all to suggest these issues do not weigh equally with the important work being done by women's groups or by those with a more generic focus.
Are all your staff men?
No, we have a very well mixed and diverse staff team throughout the organisation and recruit accordingly.
What geographical areas do you work in?
We work nationally in relation to policy although much of our project work and direct service delivery is currently in London currently.
I am a practitioner and would like some advice on working with fathers, what do you suggest?
We do not operate a helpline at Working With Men but check our links for organisations who do. For organisations wishing to buy training or commission a service please look here .